digital traffic management
What is traffic management?
In the digital environment, traffic is the flow of visitors to a company's website, blog, or pages. These visitors/users can be attracted organically – that is, by content published by the company – or through paid traffic strategies, in which companies make financial investments to increase their visibility on the Internet.
In this sense, paid traffic management refers to the adoption of strategies aimed at attracting an increasing number of people to a particular online address. Since greater page visibility contributes to higher conversion rates, many companies have invested in these actions to achieve better results.
What are the advantages of good traffic management?
For those who want more immediate results, the best way to get more visibility on the Internet is through paid traffic.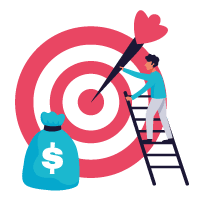 Increased ROI (Return on Investment)
Creation of a qualified and segmented audience
Improved brand reputation, with greater visibility of your products or services
How to choose the best traffic channel?
Currently, there are several channels that can be used by businesses to increase traffic, such as:
Google Ads
Facebook ads
Instagram ads
Email marketing, among others
It is therefore important to know how to choose the best channels to use to generate more traffic for your business.
Business Horizon presents several tips and helps you make the right choice in your campaigns.
Let's work together!
Do you have an idea for your business and don't know where to start? We are just a click away. Contact us  🡆